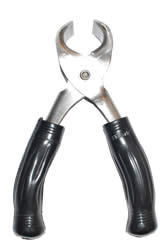 These Stainless Steel Skinning Pliers are quality made and built to last utilising stainless steel to protect them from rusting. Fish skinning pliers, Heavy duty, spring loaded, with non slip handles. These pliers are designed in the United States and made under strict quality control conditions.

They are spring loaded, have non slip handles, heavy duty construction and have a 3cm face on their gripping edge.

These are the pliers that they use too skin those giant cat fish in America but we can easily use them for our species here. They are also very handy to use in a hunting application when skinning animals.

Currently out of stock, we may get some more in, give us a call on 07974 142777 to find out on stock if interested.